 TonicMD Beauty & Medspa is proud to offer a different kind of lift: Ultherapy®!
It's a non-invasive treatment that uses ultrasound to provide natural, gradual results.
Ultherapy is the only FDA-cleared, non-invasive procedure that lifts the neck, chin and brow, and improves lines and wrinkles on the upper chest. Through the ultrasound imaging with Ultherapy, energy is delivered precisely to the place where it will benefit you most—for natural-looking results that improve over time.1-3
Only Ultherapy is FDA-cleared to non-invasively lift skin on the neck, under the chin, and on the brow—and also improve lines and wrinkles on the décolletage! 1,2 No wonder there have been more than a million treatments delivered worldwide.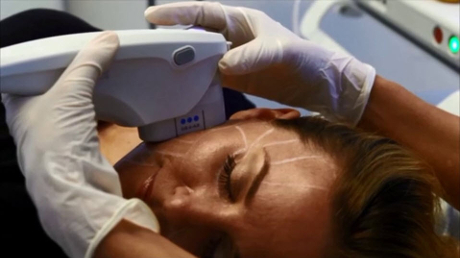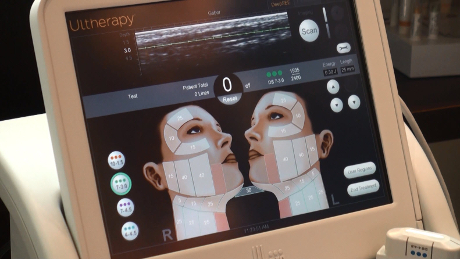 For those looking for an alternative to a surgical facelift, Ultherapy provides proven results in a single treatment for most patients. Learn how to treat your loose skin without surgery, without impacting the surface of your skin, and without downtime.1-3,5,6

Frequently Asked Questions
REFERENCES: 1. Merz and Christie Brinkley inspire women to redefine life's big moments through new "Milestones of Me" campaign featuring Ultherapy ®. Business Wire website. https://www.businesswire.com/news/home/20190129005028/en/Merz-Christie-Brinkley-Inspire-Women-Redefine-Life%E2%80%99s. Published January 29, 2019. Accessed December 9, 2019. 2. Fabi SG, Joseph J, Sevi J, Green JB, Peterson JD. Optimizing patient outcomes by customizing treatment with microfocused ultrasound with visualization: gold standard consensus guidelines from an expert panel. J Drugs Dermatol. 2019;18(5):426-432. 3. Ulthera Instructions For Use. 4. Fabi SG, Massaki A, Eimpunth S, Pogoda J, Goldman MP. Evaluation of microfocused ultrasound with visualization for lifting, tightening, and wrinkle reduction of the décolletage. J Am Acad Dermatol. 2013;69(6):965-971. 5. Rittie L, Fisher GJ. Natural and sun-induced aging of human skin. Cold Spring Harb Perspect Med. 2015;5(1):a015370. 6. Sasaki GH, Tevez A. Microfocused ultrasound for nonablative skin and subdermal tightening to the periorbitum and body sites: preliminary report on eighty-two patients. Journal of Cosmetics, Dermatological Sciences and Applications. 2012;2(2A):108-116. 7. White WM, Makin IR, Barthe PG, Slayton MN, Gliklich RE. Selective creation of thermal injury zones in the superficial musculoaponeurotic system using intense ultrasound therapy: a new target for noninvasive facial rejuvenation. Arch Facial Plast Surg. 2007;9(1):22-29. 8. Whitney ZB, Zito PM. Anatomy, skin, superficial musculoaponeurotic system (SMAS) fascia. In: StatPearls. Treasure Island, FL: StatPearls Publishing; 2019. https://www.ncbi.nlm.nih.gov/books/NBK519014/. Updated October 27, 2018. Accessed December 9, 2019. 9. Werschler WP, Werschler PS. Long-term efficacy of micro-focused ultrasound with visualization for lifting and tightening lax facial and neck skin using a customized vectoring treatment method. J Clin Aesthet Dermatol. 2016;(9)2:27-33. 10. Alam M, White LE, Martin N, Witherspoon J, Yoo S, West DP. Ultrasound tightening of facial and neck skin: a rater-blinded prospective cohort study. J Am Acad Dermatol. 2010;62(2):262-269.
We're here to help you schedule a consultation today to discuss treatment options and look your very best.
By submitting this form you agree to be contacted via phone, text, and email.*